products :: Nonfiction :: Bible Reference ::
Ryken's Bible Handbook
Ryken's Bible Handbook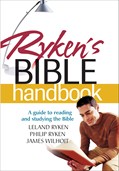 Price:
19.97
ISBN:
978-0-8423-8401-8
Trim Size:
5.25 x 8
Binding:
Hardcover
Release:
October 2005
This book gives students of the Bible a quick overview of every book in the Bible. Leland Ryken's distinctive trait is a literary approach to the Bible—understanding the Bible as literature. The three authors help shed light on understanding the Bible as the inspired Word of God and as literature by looking at the Bible's different literary genres: poetry, narrative, wisdom literature, story, parables, and more.