products :: Nonfiction :: Counseling / Psychology ::
Men's Relational Toolbox
Men's Relational Toolbox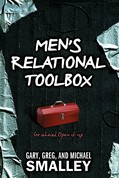 Price:
15.99
ISBN:
978-0-8423-8320-2
Trim Size:
5.5 x 8.25
Binding:
Softcover
Release:
February 2004
Using the right tool for the job makes sense when it comes to building or fixing things around the house. But when it comes to significant relationships, men often grab the tools that make them successful in the workplace—and then wonder why they didn't work. Through humorous anecdotes and practical advice, this engaging book will help men discover the set of tools they need to build and repair the relationships that are most important to them.