products :: Bibles :: Teens ::
Metal Bible NLT: Silver Thirsty
Metal Bible NLT: Silver Thirsty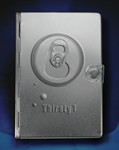 Price:
29.99
ISBN:
978-0-8423-7233-6
Trim Size:
4.125 x 6.25
Binding:
Metal, Silver
Release:
October 2002
Plain and simple and totally unexpected—this small, plain-text, NLT metal-cover Bible is about giving teens something totally unique without directly saying it's for them. The Metal Bible has the hippest exterior ever! With a metallic matte finish on the outside and the complete NLT translation on the inside, the Bible will be a favorite among students of all ages. Style-conscious teens will find this lightweight, compact edition of the Scriptures irresistible.