products :: Fiction :: Suspense / Mystery / Thrillers ::
This Present Darkness
This Present Darkness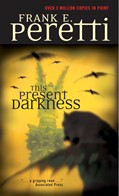 Price:
9.99
ISBN:
978-0-8423-6171-2
Trim Size:
4.188 x 6.875
Binding:
Living Books
Release:
March 2002
Ashton is just a typical small town. But when a skeptical reporter and a pastor begin to compare notes, they suddenly find themselves fighting a hideous plot to subjugate the townspeople—and eventually the entire human race. A riveting thriller, This Present Darkness offers a fascinating glimpse into the unseen world of spiritual warfare.