products :: Nonfiction :: Apologetic ::
How Now Shall We Live?
How Now Shall We Live?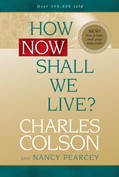 Price:
17.99
ISBN:
978-0-8423-5588-9
Trim Size:
6 x 9.188
Binding:
Softcover
Release:
November 2004
2000 Gold Medallion Award winner!
Christianity is more than a personal relationship with Jesus Christ. It is also a worldview that answers life's basic questions and shows us how we should live as a result of those answers. How Now Shall We Live? equips Christians to confront false worldviews and live redemptively in contemporary culture.