products :: Nonfiction :: Education ::
The One Year Christian History
The One Year Christian History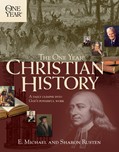 Price:
16.99
ISBN:
978-0-8423-5507-0
Trim Size:
5.5 x 7
Binding:
Softcover
Release:
February 2003
What happened on this date in church history? From ancient Rome to the twenty-first century, from peasants to presidents, from missionaries to martyrs, this book shows how God does extraordinary things through ordinary people every day of the year. Each story appears on the day and month that it occurred and includes questions for reflection and a related Scripture verse.