products :: Nonfiction :: Devotionals ::
Never Alone Devotions for Couples
Never Alone Devotions for Couples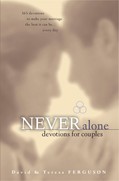 Price:
14.99
ISBN:
978-0-8423-5386-1
Trim Size:
5.25 x 8
Binding:
Softcover
Release:
October 2001
This 365-day companion devotional to Never Alone (released in March 2001) helps strengthen a couple's ability to join with Christ in meeting their spouse's emotional needs. The devotional is arranged into 52 themes such as acceptance, affection, and forgiveness, with a week's worth of meditations on each theme. Each daily entry includes a Scripture verse, a meditation, a prayer, and a statement of commitment.