products :: Kids :: Juvenile Fiction ::
The Underground
The Underground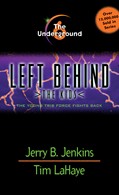 Price:
5.99
ISBN:
978-0-8423-4326-8
Trim Size:
4.188 x 6.875
Binding:
Mass Paper
Release:
September 1999
These latest volumes of the hot-selling Left Behind juvenile series continue the story of four kids left behind after the Rapture. With themes and events that parallel the adult series, these books carry Left Behind's important message to the younger generation.

In #6 The Underground, the kids develop The Trib Force News to get the message out to their classmates.