products :: Nonfiction :: Bible Reference ::
1-2 Samuel
1-2 Samuel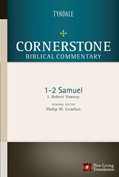 Price:
34.99
ISBN:
978-0-8423-3430-3
Trim Size:
6 x 9
Binding:
Hardcover
Release:
December 2009
The Cornerstone Biblical Commentary series provides students, pastors, and laypeople with up-to-date, accessible evangelical scholarship on the Old and New Testaments. Presenting the message for each passage, as well as an overview of other issues relevant to the text, each volume equips pastors and Christian leaders with exegetical and theological knowledge so they can better understand and apply God's Word. This volume includes the entire NLT text of 1 and 2 Samuel.
J. Robert Vannoy, Th.D., Free University of Amsterdam, is Professor Emeritus and Allan A. MacRae Chair of Biblical Studies at Biblical Theological Seminary. He has over 40 years of experience in teaching and has served as a translation consultant for the NIV, TNIV, and NLT. He has also contributed articles to various publications including reference works (such as the Baker Encyclopedia of the Bible and the Evangelical Dictionary of Biblical Theology), scholarly journals, and magazines. He and his wife are blessed with four children and over 10 grandchildren. Outside of Old Testament studies, Robert enjoys family, gardening, photography, hiking, and exploring islands on the Maine coast.