products :: Fiction :: Classic / Allegory ::
Hinds' Feet on High Places
Hinds' Feet on High Places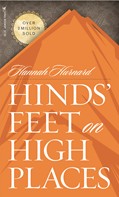 Price:
7.99
ISBN:
978-0-8423-1429-9
Trim Size:
4.188 x 6.875
Binding:
Living Books
Release:
November 1979
With over 2 million copies sold, Hinds' Feet on High Places remains Hannah Hurnard's best known and most beloved book: a timeless allegory dramatizing the yearning of God's children to be led to new heights of love, joy, and victory. In this moving tale, follow Much-Afraid on her spiritual journey as she overcomes many dangers and mounts at last to the High Places. There she gains a new name and is transformed by her union with the loving Shepherd. Included in this special edition (February 2009 release) is Hannah Hurnard's own account of the circumstances that led her to write Hinds' Feet, and a brief autobiography. Special edition also features a new cover design.