products :: Fiction :: Classic / Allegory ::
Hinds' Feet on High Places
Hinds' Feet on High Places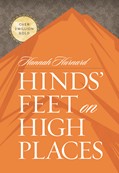 Price:
15.99
ISBN:
978-0-8423-1394-0
Trim Size:
5 x 7
Binding:
Hardcover
Release:
July 1986
Hinds' Feet on High Places is one of Hannah Hurnard's best known and best loved books. This book is a beautiful allegory dramatizing the yearning of God's children to be led to new heights of love, joy, and victory. Follow Much-Afraid on her spiritual journey through difficult places with her two companions, Sorrow and Suffering. Learn how Much-Afraid overcomes her tormenting fears as she passes through many dangers and mounts at last to the High Places. There she gains a new name and returns to her valley of service, transformed by her union with the loving Shepherd.